We Have the Best Furnace Service in Edgewood WA!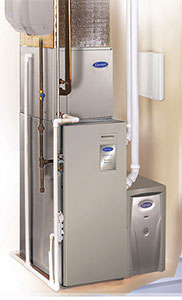 Your home is getting colder and colder so you've got to do something about it. You can't just live in a freezing cold residence. If you're sick of getting the chills, it's time to call All Seasons Inc. for all of your heating needs. We've got the furnace service Edgewood WA residents can trust. Whenever you choose to call us, you're working with the best heating company in the business!
Our Heat Pump Installations in Edgewood WA Are Fast and Reliable!
A home needs a good heating system, especially in Edgewood WA, where temperatures like to plummet during the winter months. A great option to heat your home is a heat pump system. Edgewood WA homeowners deserve to have an energy efficient and multi-use heat pump system at work to keep them warm and comfortable. All Seasons Inc. is the answer! We're professionals at heat pump installations in Edgewood and the best in terms of customer service. We really care about our customers and only want the best for their comfort. If you need someone to install a heat pump, you have to come to All Seasons Inc. Some great attributes of our company include:
Customer Focused Values
Experienced and Professional Technicians
Official Carrier Factory Authorized Dealer
Extraordinary Repairs and Installations
Winner of Carrier President's Award in 2009
Affordable Pricing
And More!
We're the #1 Source for Furnace Installation & Repair in Edgewood, WA
You really can't go wrong with a new furnace for your Edgewood home. When you work with us, you're getting a team that's skilled in not only furnace installation, but also furnace repair. Keeping your furnace working smoothly is our priority alongside giving you exceptional customer service. A few other services we provide Edgewood include:
Furnace Maintenance
Furnace Repair
New Furnace Installation
Heat Pump Installation
Heat Pump Repair
Central Air Service
And Many More!
You've got a cold home and we've got the tools to fix that problem. Call us today and schedule an appointment to get the heating service you deserve!
Contact Us Today
Call our team at (253) 879-9144 to schedule a service or submit an online request to get started immediately.