Tacoma's #1 Manufactured Mobile Home Heating Expert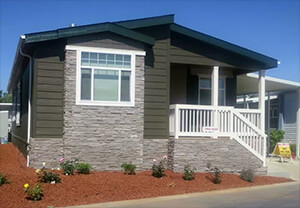 With today's manufactured homes, you do not settle for anything but quality. So why settle for anything other than the best manufactured mobile home heating company in Tacoma?
Most manufactured homes today come already with an electric furnace made by either Coleman or Intertherm. Although these mobile home electric furnaces may be converted to an energy saving heat pump, you cannot come close to achieving the 9.0 HSPF that is required by Tacoma Power for their manufactured Mobile Home Heating Rebate.
Our Carrier® manufactured mobile home rated heat pump products reach up to 12 HSPF. So rest assured, we have you covered.
Heating Seasonal Performance Factor
HSPF is like miles per gallon. It's the average coefficient of how much heat you get for each watt of energy you consume. You pay by the watt. Therefore, the higher the HSPF, the lower your energy bill. Electric resistive heat is about 3.4 comparably.
Rebate- Tacoma Power Manufactured Mobile Home Heating- Tacoma
We raise the bar for manufactured mobile homes in Tacoma and for Tacoma Power customers.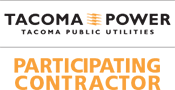 Your Manufactured Mobile Home Heat Pump must meet a minimum of 9 HSPF efficiency in order to quality for the rebate. We have attractive 0% financing or $1,000 rebate available through the Tacoma Power Manufactured Mobile Home Heat Pump Project. As a preferred Tacoma Power Contractor, we are able to do all the leg work for you and provide you instant rebate savings. We take it right off your invoice.
Rebate- Puget Sound Energy Mobile Home Rebate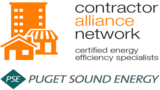 Do you own a manufactured mobile home heating system and currently burning your money with an electric furnace? If you are a Puget Sound Energy Customer (PSE), receive an $2,400 instant rebate when we replace your old electric furnace with a new heat pump system. Your heat pump only needs a minimum 8.5 HSPF efficiency to qualify.
About us
All Seasons Inc. has been installing manufactured home heat pumps in Tacoma for over 25 years! We are a Carrier Factory Authorized Dealer®, so your mobile home heat pump comes with a 100% satisfaction guarantee.
Contact us for a free mobile home heat pump tacoma quote
---
We service the following areas:
Tacoma, Puyallup, Bonney lake, Federal Way, Graham, Spanaway, and the surrounding area.
---
Contact Us Today
Our experts strive to keep residents of manufactured and mobile homes comfortable with quality indoor heating and air conditioning services. If you are interested in learning more about how we can serve you, call us at (253) 879-9144 to schedule a service or submit an online request to get started immediately.