Industry-Leading Products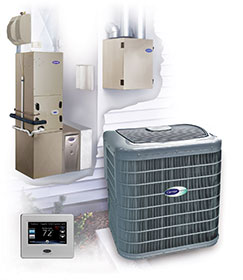 All Seasons Inc. is proud to offer high-quality, reliable products to our residential and commercial customers. We sell and install Carrier® HVAC units, plus we service all major brands of HVAC equipment.
Our experts are determined to uncover the perfect HVAC system for your home or business, regardless of size or brand. We will examine your units, diagnose issues, find solutions and help you decide which new system is best for your space. Our team is comprised of HVAC experts you will want to work with!
Products That We Service
Our top-of-the-line products include:
A Proud Carrier® Dealer
As a Carrier® Factory Authorized Dealer, our HVAC experts offer top-of-the-line equipment to solve HVAC problems. A proven HVAC master,All Seasons Inc. has been honored twice with the highest dealer honor, the Carrier® President's Award. Our team has exemplified high industry standards and can bring our best foot forward to every project.
Customers can feel comfortable knowing that our goal is to make their HVAC service experience as pleasant as possible. Our team is comprised of experts on these high-performance systems, and we will find the best fit for your home. Specializing in a wide variety of services, we offer premier Carrier® products that we can install in both residential and commercial spaces.
Contact Us Today
If you're looking for the most accurate and efficient system for your space, contact All Seasons Inc. to get more information on our service process! Our team will answer any questions regarding our products or help you schedule a service for your newly purchased equipment. Call us at (253) 879-9144 or submit an online request to get started immediately.