Furnace Installation Has Never Been Easier!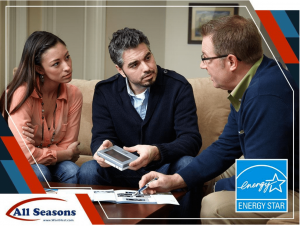 Do you feel like you're constantly repairing your furnace? Are you ready for a more efficient model? Has your current furnace outlived its usefulness? If this sounds familiar, then it may be time for your new furnace Installation. Example: Right now, you can have a brand new gas furnace for as little as 0% down and $50 per month* with Convenient financing.
*Finance example is a 10-year finance program at 9.9% APR. Total payments in this example including principle and interest would be equal to $3,787.00. Finance terms may be differ and subject to approval. Sales tax, Permits, and other additional items may not be included in the example above. Contact us for complete details.
Furnace Installation From All Seasons
If you want a furnace replacement, All Seasons is here to help with your furnace installation in Tacoma, WA. We can help you choose and install your new furnace and heat pump, and when you work with us, we make the process as easy and convenient as possible. Here's just some of the advantages we offer our clients:
Over 25 years of experience
Great track record of customer satisfaction
Rebates available from Tacoma Power, Peninsula Light, and Puget Sound Energy
Experience installing Greenspeed, Infinity, and Geothermal heat pumps as well as many other brands and models
Skilled at installing ductless heat pumps, gas furnaces, hybrid heat systems, and more
Sync your heating system to a new programmable or smart thermostat
Financing available to those who qualify to help you purchase a new furnace
Professional, efficient, trustworthy team
Warranties on new heaters and furnaces
There are lots of different reasons that you may need a furnace replacement in Tacoma. If you're not sure whether or not it's time for a new system, our experts can help. Because our service team can examine your furnace, diagnose repair issues, and help you decide if a new furnace is a good option for you, you can make an informed decision. is a new furnace the best option for you?
Signs You Need a new Furnace Installation in Tacoma, WA
There are a variety of indications that you may need a new furnace installation. To help you decide if now is the right time, here's a few points you may want to consider:
Your furnace is 15 to 20 years old
Your utility bills are significantly higher than they should be
Saving money on your electric bills is attractive to you
Your furnace doesn't heat your home evenly
Your furnace is releasing dangerous carbon monoxide
You see soot around your heating vents or registers
Your furnace is making unusual noises all the time
Your spending a lot of money on repairs
Take advantage of special rebates and offers
If you're ready for a new furnace or if you just want to set up heating service in Tacoma, contact All Seasons Inc. today. We want your home to be as comfortable as possible all year long, so trust us for all your heating and air conditioning needs in Tacoma!
Explore our Entire Product Line of Quality Carrier® Gas Furnaces
Our Carrier Gas Furnace Product Page, has lots of great information about our quality furnaces, as well as brochures you can download for free.
Contact Us Today
Our highly trained technicians are capable of installing furnaces and other heating systems into homes across Tacoma WA. You can trust our experts to take care of your home comfort, so call our team at (253) 879-9144 to schedule a service or submit an online request to get started.