Tacoma Electrical Service
We have been providing expert electrical Service & Repair in Tacoma since 1997.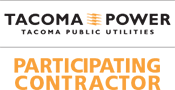 How it Started
As part of Tacoma and PSE energy conservation programs, we installed hundreds of high efficient heat pumps. So many, that it became obvious that we need our own electrical division to keep up with demand. By having our own electrical division, we are able to ensure quality control and keep up with our customers demanding schedule.
Tacoma Electric Panel Replacement- Just $2,500*
Install a new electric panel Tacoma WA. This will make your home safer and allows for future safe electrical upgrades.
Appliances today can easily overload your home electrical system. In many older homes, problems of this nature may become a safety concern. Old out of date electrical wiring, old electrical panels, and fuse boxes that are out of date, may cause all kinds of problems that we can easy to prevent. Consider the many benefits of a new electrical panel Tacoma WA.
When Is It Time For a New Electric Panel Tacoma WA?
There is no single factor, but there are things you may want to consider.
How old is your Tacoma home?
Does your current electrical panel provide all of your electrical needs? If not, this may be the time for a new electric panel.
Do you plan future improvements in your Tacoma home? If so, a new electrical panel may make sense now.
Do you plan to add a Heat Pump or other electrical heating or cooling system to your home? If so, you probably will need a new electrical panel.
Do you have a safety concern with your current electrical panel? If so, you should consult a Washington State Electrical Contractor.
We Provide Expert Electrical Service and Electric Panel Upgrades in Tacoma WA for 20 Years!
---
Do You Need a NEW Electric Panel Now?
Do you have flickering or dimming lights? then you may have electrical faults or circuit overload.
If you do not have room for additional circuit breakers or fusses, then an electrical upgrade will make it easier for safe home improvements in the future.
Constant tripping of circuit breakers or blowing fuses are a sign that your electrical circuits may be overloaded.
Two-prong outlets (non-ground outlets) may limit appliance use in your Tacoma home.
Do you have GFI outlets in bathrooms, kitchens, garage spaces or outdoors? If not, then an upgrade may be required.
Piggy-back or Dog-pile circuits can be dangerous and often illegal, so you have this condition, you should consider a new electrical panel.
Do you have a Federal Pacific (FPE) Electrical Panel? If so, we recommend replacement.
FPE electrical panels are no longer business, halting production in the early 1980's. Having a Federal Pacific (FPE) panel in your home does not mean that it needs replacement, but will often come up during a home inspection. Home insurance may also require an electrical panel upgrade. Often you may be faced with an electrical panel upgrade sooner than later, so why wait until it becomes dangerous?
*Price excludes permit and local utility fees. These items and WA State sales tax shall incur additional cost. Price reflects 200 amp indoor panel replacement with easy access. We offer Outdoor panel locations, circuits exceeding 60 amps, new meter service, service upgrades, new or altering electrical circuits at an additional cost. Certain terms and conditions apply, so please contact us for more information. WA State Electrical Contractor's number: ALLSEI*035N5
Contact Us Today
If your electric panel is outdated, consider an inspection to uncover if you need an upgrade. Our new replacements will ensure that homes are safe from dangerous electrical concerns. Contact our team today at (253) 879-9144 to schedule a service or submit an online request to get started immediately.