Carrier Heat Pumps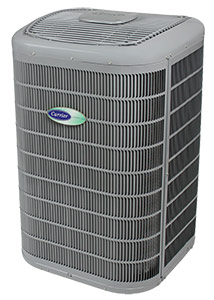 Carrier Heat Pumps are a great addition to any home or business. Heating and cooling options, top-notch efficiency, and perfect comfort, are all great reasons to choose a heat pump system from All Seasons Inc. Heat pumps work by transferring heat energy from the outside air, and then pumps that warm air into your indoor environment. As a cooling system, it does the reverse, thereby removing warm air, and then pumps it outdoors. With the flexibility of these heat pump systems, you can enjoy a comfortable home all year long. All Seasons Inc. specializes in heat pump systems that provide your perfect indoor temperature.
Puget Sound Energy (PSE) Rebate- Heat Pumps
Puget Sound Energy has rebates up to $4,500! Do you qualify?
Repair You Can Count On
Over time, heat pumps don't work like they were when they were new. You might not get the performance you desire, or you might hear strange noises coming from your system. As your system ages, problems are bound to occur eventually. Whenever your system needs repair in the Greater Tacoma area, call the experts at All Seasons Inc. We quickly diagnose the issue and offer fast, effective solutions. When you need repair, call the heating and air conditioning professionals at All Seasons Inc.!
Heat Pump in the Greater Tacoma Area!
All Seasons Inc. has installation services you can trust. We can show you our wide variety of options and help you decide on the perfect heating and cooling system for your home or business. So never settle for poor HVAC service. With All Seasons Inc., getting a new heat pump is a walk in the park! The best options for your home:
Very Energy Efficient Heating and Cooling Systems
Better Air Quality, for the Health of Your Family.
Increased Performance, for the comfort of Your Home.
Lower Energy Bills, to Save You Money!
More Versatility, so we can Adapt to Your Existing Construction
Less Repairs to Deal With, so You Get Peace of Mind
And much Much More!
Carrier Hybrid Duel Fuel Heat Pumps
Similar systems that uses both electric and fossil fuel is a Carrier Hybrid Heat. Heat Pumps provide heat throughout the majority of the heating seasons, and then your gas furnace takes over during the bitter cold months.
A Carrier Hybrid with Green Speed Inverter Drive technology is one example. Carrier's Infinity Green Speed Heat Pump, is the most efficient heat pump. With heating efficiency up to 14 HSPF and cooling efficiency of 24 SEER, you simply can not find anything to compare.
Download Carrier® Heat Pump Brochures
Infinity series – Inverter compressor technology, for the ultimate in efficiency, comfort, and performance.
Performance series – Two speed Compressor available on select models.
Comfort series – Budget friendly, but still carries a 10 year warranty.
Coastal- salt resistant heat pumps – If you live close to the sea or experience the damaging effects of salt from our local Puget Sound, This offers excellent protection against.
Contact Us Today
At All Seasons Inc., our experts install, repair, and maintain all heat pumps, so you can trust us to take care of any problem! If you call us today at (253) 879-9144, we can schedule your service appointment right away. If you are interested in finding out more about our heating and cooling products, contact us so we can schedule your free in home analysis with our comfort advisor.