Best Heat Pumps in Tacoma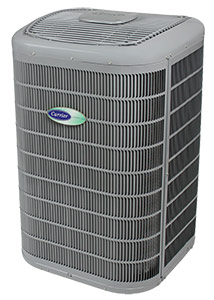 A Carrier Heat pump is a great addition to any home or business. Heating and cooling options, top-notch efficiency, and effectiveness are all great reasons to choose a heat pump system from All Seasons Inc. A heat pump works by transferring heat energy from the outside air and pumping that warm air into your indoor environment. As a cooling mechanism, takes the warm air from a cool space and transfers that air to a warmer space. With the flexibility of these heat pump systems, you can enjoy a comfortable environment all year long. All Seasons Inc. specializes in heat pump systems that provide the perfect indoor temperature.
Tacoma Power Heat Pump Rebate
Puget Sound Energy (PSE) Heat Pump Rebates
Puget Sound Energy has rebates ranging from $800, all the way up to $2,400!
To find out more information or see if you qualify, click here
Heat Pump Repair You Can Count On
These are both common reasons to get repair in Tacoma and surrounding areas. Over time, heat pump systems don't work like they used to. You might not get the air you desire or you might hear strange noises coming from your system. As their use continues, problems are bound to occur eventually. Whenever your system needs repair in the Greater Tacoma area, call the experts at All Seasons Inc. We can quickly diagnose the issue and offer fast, effective solutions. Whenever you need repair, call the trusted heating and air conditioning professionals at All Seasons Inc.!
Heat Pump Installation in the Greater Tacoma Area!
All Seasons Inc. has installation services you can trust. We can show you our wide variety of options and help you decide on the perfect heating and cooling system for your home or business. Never settle for poor HVAC service from other HVAC companies. With All Seasons Inc., getting a new heat pump is a walk in the park! The best options for your home:
Very Energy Efficient Heating and Cooling Systems
Better Air Quality, for the Health of Your Family.
Increased Performance, for the comfort of Your Home.
Lower Energy Bills, to Save You Money!
More Versatility, so we can Adapt to Your Existing Construction
Less Repairs to Deal With, so You Get Peace of Mind
And More!
A similar type of system that uses both electric and fossil fuel is a Carrier Hybrid Heat.
A Carrier Hybrid with Green Speed Inverter Drive technology is one example of this type of system and is the most efficient available. With heating efficiency up to 14 HSPF and cooling efficiency of 20 SEER, you simply can not find anything that compares. In fact, now PSE offers a 10 HSPF Special Rebate when you install a Green Speed Carrier Heat Pump.
Download Carrier® Brochures
Contact Us Today
At All Seasons Inc., our experts install, repair, and maintain all heat pumps, so you can trust us to take care of any problem! If you call us today at (253) 879-9144, we can schedule your service appointment right away. If you are interested in finding out more about our heating and cooling products, contact us so we can schedule your free in home analysis with our comfort advisor.