Be In Control Of Your Comfort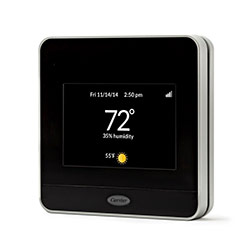 Thermostats are a great way to stay in control of your air conditioning and heating systems. Maintaining a more comfortable temperature in your home is critical. But more importantly, it must be easy! At All Seasons Inc. we have multiple control options, that without a doubt, will ensure your comfort.
Thermostat options include:
Programmable thermostats
Non-programmable thermostats
Zone controls
Our highly-skilled staff specializes in thermostat installation and repair of all different kinds, We are sure to keep you comfortable all year long. Our thermostats along with controlling your indoor temperature, can monitor your indoor temperature and humidity too.
The Best Thermostats in the Tacoma Area
You are interested in upgrading your thermostat, but uncertain which control to choose. Without a doubt, you want to to match your control to your system and moreover your lifestyle and needs. Where do you go to figure this all out? You may choose to search the internet and spend hours of research. But why not turn to us instead? you'll be in great hands. As well as having a highly-skilled, super friendly staff, we know the ins and outs of all things HVAC. Above all else, we are ready to assist with at any time! Don't know how to use your thermostat? Are you interested in a thermostat upgrade for your heat pump or AC unit? Undoubtable, we will provide friendly, professional, and reliable service, so give us a call today. We will walk you through the whole process, so you don't have to worry about a thing.
We offer exceptional Carrier and Ecobee thermostat products. Besides having these best of class products, you'll have the confidense in knowing you are making the right choice. In addition to this, you will have complete control over your temperature, humidity and air quality. Our thermostats are so reliable and easy to use, it will make controlling your system a breeze. Call us today. You'll clearly understand why we're the #1 air conditioning and heating company in Tacoma, WA and surrounding area!
Tacoma's Furnace, Heat Pump, & AC Expert!
Along with All Seasons Inc., serving WA for nearly 30 years, our dedication to customer satisfaction is what sets us apart from the others. Because we take pride in our outstanding products and services, we have a top-notch staff to get the job done right. Whether you need a thermostat installation, furnace replacement, or a standard AC repair, call All Seasons Inc. today!
Call us today and take Control of your Heating & Cooling.
Carrier thermostats are engineered to the highest standards.
Thermostats- Download Carrier Brochures:
Contact Us Today
If you notice that your rooms are hot or cold, turn to All Seasons Inc.. Our team has a variety of Carrier thermostats that can solve your problems. Call us at (253) 879-9144 to schedule a service or submit an online request to start immediately.