Puyallup Heating & Air Conditioning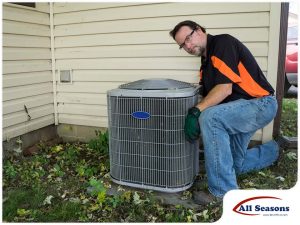 Heating & Air Conditioning, Puyallup can Trust
Remember when S Meridian was just a two lane road? Puyallup, Washington is a fast growing city. Yet it's small town feel and amazing views make this a top destination in the state of Washington all year long. Along with the changing season of fall, of course comes the Western Washington Fair. Homeowners in Puyallup know they can prepare for the changing seasons by calling All Seasons Inc. for all of your Heating & Air conditioning needs.
Heating & Air Conditioning Repair in Puyallup
Here at All Seasons Inc, we take pride in our outstanding customer service. All of our staff enjoys helping others and doing things the right way. Our technicians are honest, responsive, and friendly. When you pick up the phone and call us, you'll be treated like family. Contact us today and you'll see why we're the best heating & air conditioning company in Puyallup, WA!!
Colder weather in Puyallup means your heating system needs more maintenance. Making it through the winter months could be tough if you're not working with the right company. With heating repair from All Seasons Inc., chilly days won't bother you anymore. Our customer-focused service and friendly technicians make us the best choice in Puyallup for heating repair and service. If you want the best, call us today!
Rebates
All Seasons, Puget Sound Energy (PSE) and Tacoma Power (TPU) team up, so we are able to provide the best rebates in Puyallup.
Find your Gas Furnace and Heat Pump Rebates Here
Heat Pump
Keeps Things Cozy in Puyallup. A heat pump will greatly benefit you during the winter. Luckily, All Seasons Inc specializes in heat pump installations in Puyallup. Heat pumps are cost effective and energy efficient.
A heat pump system in your Puyallup home, means you're getting a great deal and a more comfortable environment unlike anything before. At All Seasons Inc, our commitment is giving you service that's a cut above the rest. We focus 100% on the needs of our customers. Your home is in good hands when you work with All Seasons! When you call us, you are calling a company that is dedicated to customer satisfaction. In addition, our heat pump services in Puyallup are easy, cost-effective, and stress-free! At All Seasons Inc., we are also a premier PSE contractor. This means we are able to offer instant rebates for your new Carrier Heat Pump up to $2,400*
To discover how our Carrier Infinity Heat Pumps can save you money, click here
Puyallup's #1 Choice for Furnace Installation & Repair
Installing a new furnace in your Puyallup home is a decision you won't regret. A new furnace will be cost-effective and easy to acquire. when you choose All Seasons Inc, you are getting the best of the best. We're a Carrier dealer, which means we're the best place to go for high-quality heating products. We also offer furnace repair in Puyallup homes and a whole host of other services. Some of the heating services Puyallup can expect from us include:
Your Trusted Puyallup AC and Heating Repair Company
 We take pride in our exceptional products and services, so Your comfort is always our top concern. All Seasons Inc. understands how important these heating and cooling systems are, so we keep you warm and cozy in the winter, and refreshingly cool in the summer. No one does it better than us.
Whether you need a simple AC repair or a whole new air conditioning system installation, we have the experts that can get the just done fast. We know how frustrating these repairs can be. You're tired, you're irritated, and you just want to fix the problem- quickly. Unlike other heating companies in the area, All Seasons always put our customers first. Furthermore, from heat pump & AC service, to complete system upgrades, we have an HVAC solution just for you! See why we're the best Heating & Air conditioning contractor in Puyallup.
If you reside in Puyallup, WA and are looking for expert HVAC services, call us at (253) 879-9144 to schedule an appointment or submit an online request. We look forward to serving you in your home or business.