Other Services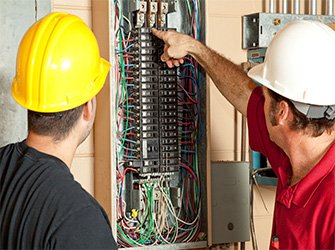 We know that our customers may experience more than just heating and air conditioning problems. At All Seasons Inc., we offer a wide variety of other HVAC services to provide assistance including:
Humidifiers, to relieve dry air and static electrical shock

Whole Home Comfort Evaluation, so you know your best options

Home Energy Performance, for better all round comfort

Water Heater replacement, to improve your outdated system

Standby Power Generators, so you you will not be without light
Electrical Panel Replacement
Your electrical panel is the connection between wires from outside your home and wires from your home's electric system. At All Seasons Inc., we make sure that homes are updated with proper electrical panels to prevent continual problems with outdated systems. We offer electrical service, repair & panel replacements and make your home safer as well as allow for reliable future electrical upgrades.
Duct Testing & Duct Sealing, and other services we provide
Many homeowners don't realize they are wasting energy through a leaky duct system. To maintain and prevent leakage, All Seasons Inc. provides industry leading duct testing. By using this technique, our experts can determine the total amount of leakage and the location of any duct air leaks. After inspecting the problem, our experts will seal the air leaks, so you your duct system is more efficient and comfortable.
Indoor Air Quality (IAQ)
Proper indoor air quality is critical no matter where you live. Indoor comfort is a life necessity so it is important to be wary of the air you breathe. All Seasons Inc. offers more than just air quality HVAC services, evaluations, and equipment for homeowners across Tacoma WA. Our team provides other HVAC services and strives to improve customers' IAQ, to make you more comfortable in your personal space.
Contact Us Today
For top-notch residential heating services, look to All Seasons Inc. Our HVAC experts will solve any heating troubles that you may be experiencing! Call our team at (253) 879-9144 to schedule a service or submit an online request.