Gas Furnaces from Carrier®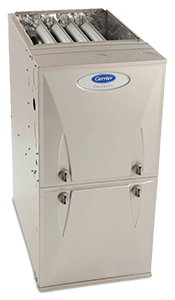 The most efficient furnace you can buy.
Your Tacoma gas furnace is the heart of your home. In the winter, it radiates warmth. And all year long, provides constant air circulation- Keeping you more comfortable. many of our furnaces do this all so efficiently, you will be surprised when you see how low your utility bill is. your new Carrier Infinity Furnace, will provide efficiency up to 98% AFUE . This furnace is the most efficient gas furnace available. With Green Speed intelligence, this furnace can vary its heat and fan speed to changing conditions.
This is simply the best furnace you will ever own.
We are a Carrier Factory Authorized Dealer. What does this mean to you?
Comfort in knowledge that we have gone through Factory Training.
We employ NATE certified technicians and of course,
100% Satisfaction Guaranteed!
Allow us to earn your business. You will be glad you did. Contact us to set up an appointment.
Contact Us Today
As a Factory Authorized Carrier® Dealer, we offer only the best gas furnaces to our customers. Our industry leading HVAC products will improve your indoor comfort year round! Call us today at (253) 879-9144 to schedule a service or submit an online request to get started immediately.